About Us
Diversity and Inclusion (D&I) in the workplace is a no brainer. Likewise, it makes sense in business terms too. Studies show an 80% improvement in business performance among those with high diversity levels. When people feel included and able to reach their full potential, they are more engaged.
About Charlotte Sweeney Associates
Since Charlotte Sweeney Associates (CSA) launched in 2012, we've been busy leading change from the inside in businesses and organisations, both in the UK and across the world.
We've worked in partnership with hundreds of companies, we've hosted heaps of events, forums and seminars, published numerous reports - as well as a bestselling D&I book that has been shortlisted by the Chartered Management Institute (CMI) for the Management Book of the Year.
CSA has also been recognised as one of the Top Ten D&I Consultants by The Global Diversity List and The Daily Telegraph.
Our team of consultants are motivated by practical insider experience, having all worked in D&I within organisations around the world. We are a critical friend to our clients, working collaboratively to challenge and make change happen, supporting them throughout the journey.
From strategic advice to apps, all our solutions have an overriding aim to empower organisations to unleash their inclusive and powerful cultures.
Manifesto
We understand businesses are under pressure to jump on the D&I bandwagon. But done right, unleashing a powerful culture will enable your employees to thrive, you'll retain and attract the best talent and your business will also perform better financially.
We believe that your powerful culture is present within your company already. We'll work with you to release this potential and create an inclusive culture where everyone works at their best. Who wouldn't want that?
We love working with companies who are amazing at what they do, but are at an early stage of their D&I journey or late to the party, but are now ready to roll up their sleeves and crack on.
We are a consultancy, led by Charlotte Sweeney OBE, whose consultants share her kick-ass approach. They have all led change from inside organisations, so know how best to support you. Think of us as your team of D&I ninjas.
We eliminate the confusion and complexity around D&I. No hot air. We pride ourselves on being productive, delivering effective, practical programmes globally, which drive sustainable change.
We guarantee incisive support, delivered in a no-nonsense way to drive the very best performance from your teams and cultivate a happier and healthier workforce. No kumbya, no kaftans, we promise.
We dare you to be disruptive. Step out the box and seek out change to create an outstanding organisational culture your competitors will aspire to and you can be proud of.
Be an inclusive disruptor, be transparent, open, courageous, bias aware, curious and consistent.
Charlotte Sweeney OBE
Charlotte Sweeney OBE
Charlotte Sweeney OBE, has specialised in D&I for over 20 years. Inspired by her global corporate career in the Financial Services sector, she launched Charlotte Sweeney Associates in 2012.
She is a trail blazer in her field and thrives on empowering business leaders and organisations to create inclusive workplaces. The Sweeney Report was produced at the request of Sir Vince Cable and Lord Davies, examining the voluntary code of conduct for executive search firms. She also created the City of London's Diversity Programme, The Power of Diversity on behalf of the then Lord Mayor of London Dame Fiona Woolf and was previously the Vice-Chair of the Department of Business, Energy and Industrial Strategy Diversity & Inclusion Advisory Panel.
Charlotte has won many awards for her dedication to diversity. From Harvard, for her work in the D&I field to the International Alliance for Women for advancing the economic empowerment of women.
She is listed in the Northern Power Women Top 50 Power Women, included by The Economist as one of the Top 50 Diversity professionals in the world and is recognised as one of the Top Ten D&I Consultants by The Global Diversity List. In the 2017 New Year's Honours, she was awarded an OBE for services to Women and Equalities.
Charlotte is co-author of the best-selling book Inclusive Leadership, published by Pearson/The Financial Times, which has been shortlisted for the Chartered Management Institute (CMI) Management Book of the Year. She also writes regularly for professional publications including Hays, Virgin and CSR. As well as delivering keynote speeches and chairing conferences internationally, she is an expert contributor for BBC Radio, TV and the national press.
Katie Gleghorn
Inclusion, Diversity & Equality Specialist
Katie has over 16 years experience in financial services having most recently held a Lead D&I role at YBS. She has a solid project management and business analysis background and is a change and transformation expert. Her expertise includes workplace culture, having co-written a transformation programme which won the Best Change Management award at the 2018 CIPD awards.
Katie trains individuals and organisations on a host of D&I topics including unconscious bias, transgender awareness and building a D&I strategy. She also regularly speaks at events and conferences around the UK on the topic of gender equality.
Katie is a certified practitioner in PRINCE2 and Change Management and is a qualified yellow belt process improvement consultant. She has previously been a project manager and a business analyst so can support any organisation looking to undertake change transformation.
She is a Board Trustee for Touchstone mental health charity as well as being a steering group member for Lean in Leeds and an experienced mentor.
Inclusive Leadership
The definitive guide to developing and executing an impactful diversity and inclusion strategy
Inclusive Leadership - the definitive guide to developing and executing an impactful diversity and inclusion strategy – locally and globally, aims to guide organisations to achieve the change they are striving for in a straightforward, no nonsense style.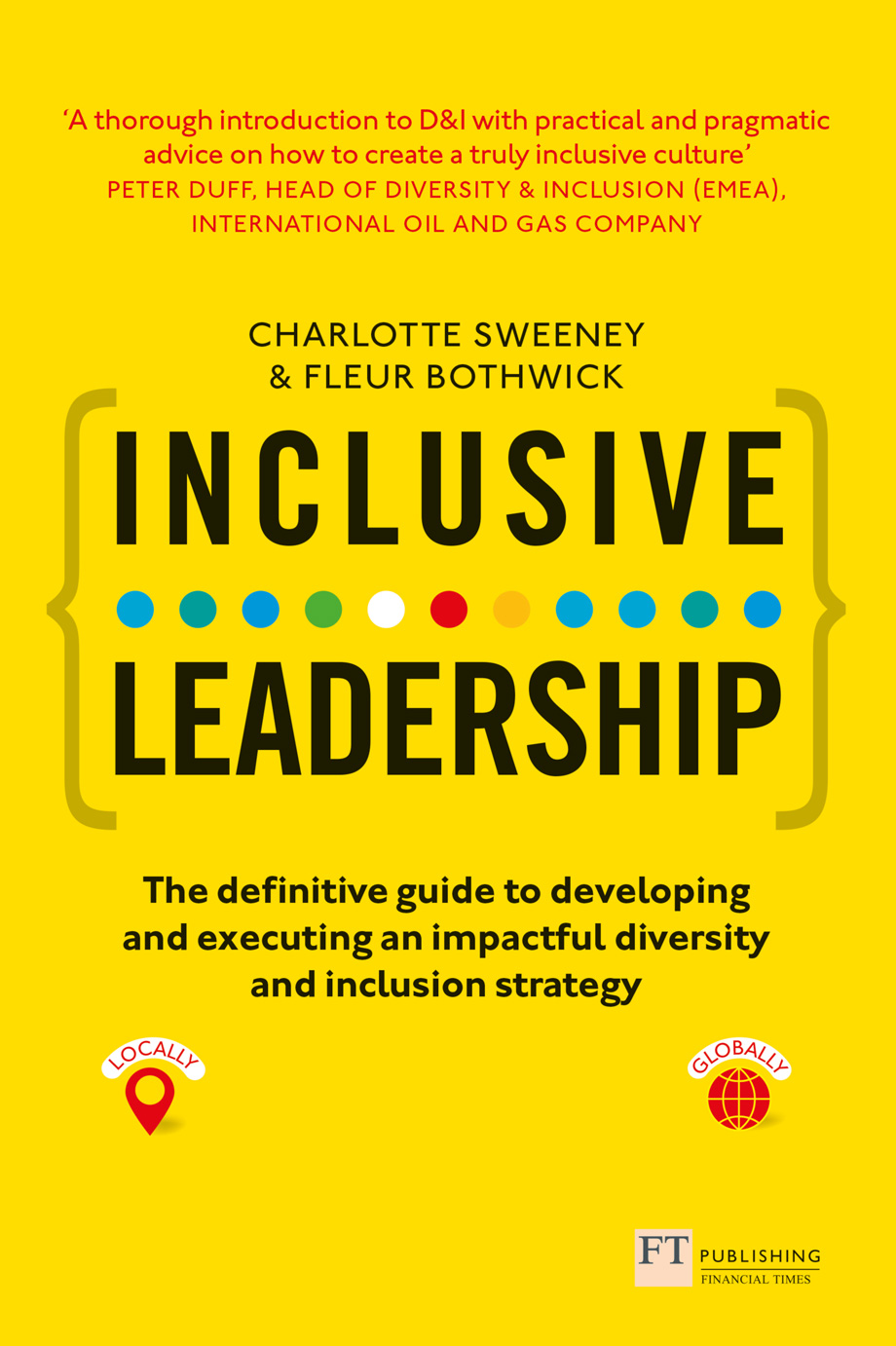 Looking at all aspects of business, it works through the whole employee life cycle and considers how to achieve a diverse supply chain. It introduces the STAR framework that any sized organisation can use, to help think about where they are on their D&I journey and where they want to be. Using examples of leading thinking and good practices from around the world, this is the first book on diversity and inclusive leadership that offers tried and tested approaches to achieving sustainable change.
Inclusive Leadership has been shortlisted for the Chartered Management Institute (CMI) Management Book of the Year prize and is in the top selling Amazon HR Management books.