Blog
Diversity and Inclusion – the route to progress
However, companies are struggling to make 'better workplaces for everyone' a reality... which is increasingly concerning when we know that changing workforce demographics, globalisation, government policy and increasing employee expectations all play a part.
To respond to this challenge, Fleur and I spent a lot of time discussing what currently wasn't working for employers, what were they missing and why progress wasn't being made although a lot of time, energy and resources were placed on D&I. We wanted to create a template of how to think about this differently.
The result was the creation of our pragmatic and easy to follow framework - STAR.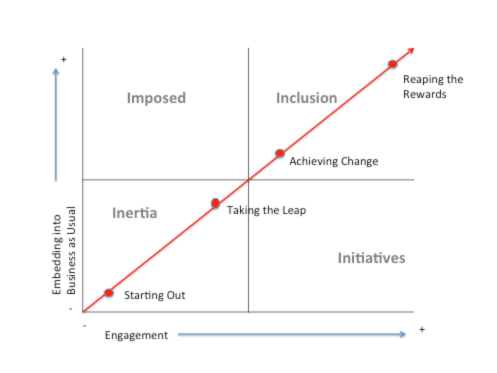 The framework has been designed to help you plot on the red line where each of the stages of the journey fit depending on where you are with the:
Levels of engagement with colleagues across the whole organisation. For example, how well the business case is articulated, how often your managers think about D&I in their day to day activities
Levels of embedding in to business as usual. For example, the level of accountability you have established for measures such as good people survey results, whether this is a consideration in your supply chain
This will give you a clear focus of how to progress to the next level of your journey to create a more diverse and inclusive organisation as well as articulate your aspiration. The framework also enables you to identify where your diversity and inclusion efforts are operating at the moment. Are you experiencing 'inertia' within the business? Are you purely driving 'initiatives'? Or are you truly operating in a way that will create 'inclusion'?
Over the years I've experienced some companies talking about their progress on D&I when that just isn't the reality their employees are experiencing. It has been a real challenge for many as there are few tools that help you create a pragmatic overview of 'where you are now' and 'where you want to be'. There are also limited ways to effectively measure and manage progress - making sure that any actions are firmly built into the strategy and the journey. The STAR framework will help you identify where you really are and the supporting measurement tools and action plans within the Inclusive Leadership book will help you to progress this further.
Whether you are 'starting out' or are progressing to 'taking the next step', the STAR framework is an effective way of articulating your current status and is an effective tool to use throughout your journey to show the progress, as well as the obstacles you're facing to create change.
What are you waiting for? Are you ready to check where you are and take the next step to really creating change in your organisation?